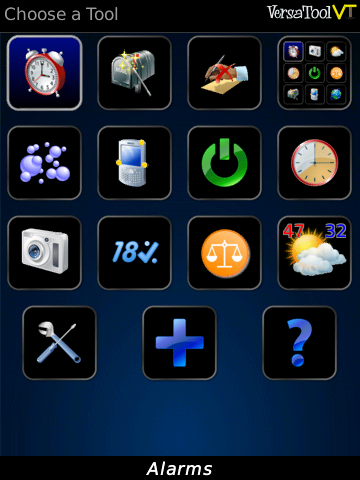 Tired of having to manage and pay for a lot of different apps that do various productivity enhancing tasks? VersaTool is the answer. It's a single tool that allows you to take control of your BlackBerry with a solid consistent user interface. VersaTool provides the following features:
Official VersaTool Features
Alarms: Set as many nameable and snoozable alarms using whatever ring tones you like for any combination of days and times
Canned Responses: Save short or long email clippings and combine them to reply quickly to common emails
Auto Reply: Use email/PIN/SMS filters to automatically respond to incoming messages with a Canned Response
Home Screen Bookmarks: Bookmark URLs, popup menus, VersaTool applets and many other tasks to your BB home screen
Popup Menus: Create menus to common tasks like emailing, calling or searching the web and assign them to home screen bookmarks or convenience keys
Really Convenient Keys: The built in convenience keys limit you to one action: pressing a button. VersaTool allows you to assign actions to pressing, but also to pressing and holding and double pressing. You can also assign actions to the mute key and end key. Any action allowable by VersaTool is available as a target: Popping a menu, launching an app, launching a URL and more
Run on Start: Have a favorite app that you're always running that doesn't allow run on start? Run on Start allows you to run any app when your BlackBerry starts up
Run on Schedule: And why limit yourself to running things on startup? Run on Schedule allows you to schedule any action that VersaTool allows on any schedule you want
Just Take the Picture: 9 times out of 10 when you want to take a picture of something, by the time I've got my BB out and unlocked I've lost the opportunity. Just Take the Picture allows me to take pictures from anywhere quickly, even while the device is locked (OS 5.0+ only)
Tip Calculator: Are you deficient in basic arithmetic like I am? Tip Calculator will make sure your deficiencies don't penalize your wait staff
Unit Conversion: Need to know how many angstroms are in a meter? Easy peasy with Unit Converter
Weather: Bookmark the weather for your city to your home screen and see the weather at a glance. The home screen icon always shows the current weather and highs and lows for the day
More to come!
Unofficial Features:
(These features use undocumented or hidden BlackBerry features that may not be available on all current or future devices and OS versions)
Flashlight: (OS 5+ only) Use the brightest light on your berry, the video camera light, to show your way in the dark
Standby: Set your berry to automatically standby when the backlight turns off
Reboot: Schedule your berry to reboot to refresh your free memory
Download Beta
|
Purchase
|
User Manual
Screen shots