Home Page | Free Trial OTA Download | Forums | Buy Now | Tutorial | Vote for features | Switch device | Press | My Facebook
BlackBerry Users Now Have a Solution for Managing Podcasts
PodTrapper is a Robust Podcast Solution Featuring Intelligent Downloading and Playback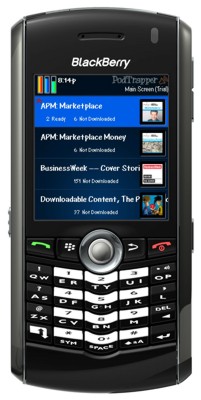 DENVER - April 13, 2009 - VersatileMonkey.com offers PodTrapper, a podcast player and podcast download manager for BlackBerry smartphones.
"PodTrapper is the first and only application to offer a complete podcast solution for BlackBerry," said Marcus Watkins, developer. "Many people carry an extra device just for podcasts, PodTrapper eliminates that need."
As the premier podcatcher for BlackBerry, PodTrapper opens up the world of podcasts to any media card enabled BlackBerry device. Users can download episodes over the cellular network, WiFi, or even through their PC. Automated intelligent downloading ensures that podcasts are only downloaded when the user wants, and only using the mechanisms the user allows.
Automatic management of users' episodes ensures that more time can be spent listening to their media and not managing it. A built in playlist manager allows users to set their preferences so that PodTrapper can prioritize playback as episodes become available.
PodTrapper plays and bookmarks any media on a user's device, remembering where it left off in every file.
Automated downloading of new episodes in the background
Support for both audio and video media
Compatible with all media card enabled BlackBerry devices
Full touch screen support
Built-in podcast browser
Customizable download mechanisms and time frames
Desktop application for downloading through a PC
Bluetooth output support
Support for podcast artwork
Send podcast and episode links to other users
OPML and manual url entry for importing podcast subscriptions
Built-in large file download utility
Built in comprehensive help
PodTrapper is available free for 30 days from VersatileMonkey.com and other major BlackBerry application retailers. After the 30 day trial it retails for $9.99.
For more information contact:
Marcus Watkins
VersatileMonkey.com
marcus[at]versatilemonkey.com

###
Versatile Monkey is a small development company focused on incorporating customer ideas and feedback to create a more useful product. Extensive use of online forums helps Versatile Monkey ensure it delivers exactly what customers are looking for.
The BlackBerry and RIM families of related marks, images and symbols are the exclusive properties and trademarks of Research In Motion Limited.